It seemed a little aggressive to go through team by team after week one and either praise or chastise them based off that first weeks performance. So let's do it after week two! Everybody knows that the whole NFL season is decided in the first two weeks so I'm going to go ahead and decide how the rest of the season is going to play out based on how teams played in the first two weeks. Feel free to judge a lot. The NFC review will come on Thursday.
AFC East:
New England Patriots (2-0): The Pats season started off pretty rough when rookie QB
E.J. Manuel
and the Bills gave them a solid run for their money with the Pats winning it with a field goal as time expired. The Pats backed up that awful performance with an even worse performance against the dismal New York Jets and another rookie QB in
Geno Smith
. In both games the offense looked stagnant and
Tom Brady
looked more frustrated than a toddler who can put the shapes in the right holes.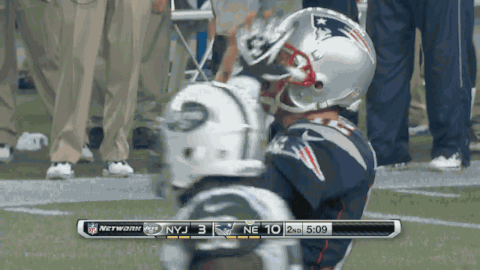 On a positive note though the Pats only lost
Shane Vareen
for the whole year and the oft injured
Danny Amendola
is well, injured.
Miami Dolphins (2-0): The Dolphins are tied for first in the division! When was the last time those words were ever written? And it is week 2 which means you can expect them to stick around for a while. Believe it or not the Dolphins have actually looked moderately impressive this year, but mainly on the defensive side of the ball. There is still a serious lack of run game, but hopes are that
Lamar Miller
will be able to pick it up. Dolphins fans have to be feeling good about that front 7 though as they are racking up the sacks and they have to be happy with the play of 2nd year QB
Ryan Tannehill.
Buffalo Bills (1-1): Manuel looks like he can ball. The rookie QB played pretty well in week one against division rival Patriots posting a 105.5 QBR. He followed up that performance with his first win of his NFL career against the Carolina Panthers and boy was it impressive. The rookie got the ball down 6 at his own 20 with only 1:38 left on the clock a no time-outs left. He marched his Bills down field and scored on a 2-yard pass to
Stevie Johnson
with just two seconds left. It helps the Bills defensive end
Super Mario Williams
racked up a team record 4.5 sacks.
New York Jets (1-1): They are going to be bad. Should be 0-2. Who knows how good Geno will be, but I'm pretty sure it will be better than anything
Mark Sanchez
ever did.
AFC South:
Houston Texans (2-0): Should be 0-2. The pre-season favorite to take the division and go deep into the playoffs. They looked atrocious in the first half in week one against the Chargers, but it's a good thing it was against the Chargers. The Texans battled back from a 28-7 deficit to win the game with a field goal as time expired. That was week one though. No way they would come back in week two and under perform again against a team that is significantly worse than them. Oh wait, they did. In week two it took overtime for the Texans to get past the divisional foe Titans, in Houston. It will be interesting to see if the Texans remember any time soon that they have
Arian Foster
as their running back.
Indianapolis Colts (1-1): Week one was classic
Andrew Luck
and the Colts. Losing in the fourth quarter and looking for their young star quarterback to march down field and lead them to victory in front of the home crowd, which of course he did. Week two was classic Andrew Luck and the Colts. Losing in the fourth quarter and looking for their young star quarterback to march down field and lead them to victory in front of the home crowd, which of course he.....didn't?
Tennessee Titans (1-1): I view this team as a wild card team. They could be good, they could be bad, they could be on a bye week, you are just never going to know. In week one they churned out a solid win against the Steelers in a dog fight. Then in week two they played extremely well against the Texans. Then today
Kenny Britt
tweets that he is done as a Titan after this year because of "irking the coaches with penalties." Quite frankly I dunno whats going to happen here. I just hope
Chris Johnson
can somehow find his old form and be awesome again.
Jacksonville Jaguars (0-2): TEBOW, TEBOW, TEBOW, TEBOW! That is all.
AFC West:
Denver Broncos (2-0):
Peyton Manning
+running game+lots of wide receivers+a former basketball playing tight end that nobody had ever heard of until after week one and was sitting on 99% of peoples fantasy team benches+a monstrous defense that will only get better when, if,
Von Miller
gets back+
John Fox
=Trip to the Superbowl.
Kansas City Chiefs (2-0):
This team is going to win games and nobody is going to know exactly how it happened.
Oakland Raiders (1-1): This Raiders team has looked impressive.
Terrell Pryor
looks like he may work as a legitimate starting quarterback and if
Run DMC
can run the way he did against Jacksonville (which is no promise because it was against Jacksonville) this team could maybe win 6 games.
San Diego Chargers (1-1): I don't think
Philip Rivers
is necessarily good, but I do know the Eagles defense sure did make it that way in week two. Speaking of defense they don't have one. I don't think this is a team that can win a whole lot of games, but I do think this is the type of team that will surprise a few teams and hurt some teams playoff chances. i.e. the Eagles.
AFC North:
Cincinnati Bengals (1-1): Will this finally be the year
Andy Dalton
steps his game up to the next level? He has a solid 2 RB system behind him and with
Jermaine Gresham
and
A.J. Green
a year older all the pieces are in place. The division is even the worst it has ever been so if there has ever been a time to capitalize on things, now is that time. Expect to see
Marvin Lewis
in the can if things don't look like they progressed anywhere.
Pittsburgh Steelers (0-2) Baltimore Ravens (1-1) Cleveland Browns (0-2): These 3 teams are all lumped together because they are all in the same division and all have looked awful after two weeks. But Chris the Ravens have a win and are the defending Super Bowl Champs they aren't that bad. Yes they are. They have looked awful in both games, their defense does not exist and
Joe Flacco
did not deserve all that money. He is a good leader, but a bad quarterback. As far as the Steelers and Browns are concerned I don't think anybody will have any gripes about lumping them together. That being said
Troy Polamalu
is pretty good. Division Winners:
East: Patriots. As poor as they have played you just can't deny a team with both Tom Brady and
Bill Belichick
at the helm. They will find a way.
South: Texans. They always seems to find a way to win games and it's only a matter of time before Foster starts to light it up
West: Broncos. Do I even need an explanation?
North: Bengals. It's there time to shine and I expect them to do so.
Wild Cards:
Chiefs and Colts. Chiefs are going to surprise lots of teams this year and are going to churn out wins like butter. The Colts are going to take a step back this year, presumabley to 9-7 or 10-6, but in a weak AFC I think it will still be enough to make it as the 6 seed.